The shoes that you wear is the most important choice to make the Path of Santiago in a safe way, avoiding unnecessary injuries and difficulties during the journey. That is why we wrote this article to help you make the decision that best suits you. Read it in its entirety to learn more about the options available, best practices when buying, and also some suggestions!
Why should you choose your shoes well when walking the Path of Santiago?
To answer the question, which footwear to wear for the Path of Santiago, is as simple as follows! After all, footwear has several functions. Quality boots or sneakers protect you from external hazards such as the sun and rain, and also from internal ones. For example, the moisture created on the feet when you do a lot of physical effort. In addition, whatever product you use to protect this bone structure must adapt to your steps.
Yes, because everyone walks differently. Read on, to learn more about foot movement and how this should influence your choice!
How walking works?
The act of walking follows a similar rhythm in all people. It is usually divided into six different movements, however, this is not always the case. Some people, due to their foot type, may develop more complex ways of walking. The types of feet that exist are:
Flat arched feet;
Foot with normal arch;
Foot with high arch.
Each person modifies the way this limb, which is responsible for mobility, hits the ground. So you must find out how your foot leans to distribute its weight when it hits the ground. These are:
Supination: Normal on high arched feet.
The outside of the heel hits the ground at a greater angle with little or no inward lean, resulting in a huge shock transition through the foreleg.
Normal on normal arched feet.
The foot rests on the outside of the heel, then leans inward to absorb the shock and support the weight of the shock.
Pronation: Normal in feet with a flat arch.
The foot rests on the outside of the heel, then leans too far inward, transferring weight outward rather than to the sole of the foot. It can lead to injuries such as cannellitis, plant fasciitis, and even bunions.
How can you find out if you have a pronator or supinator gait?
There are two ways you can do it:
Watch the wear and tear on your soles.
If you look at the shoes you are wearing, chances are you'll find the answer you're looking for. Especially if they are already old shoes. That said, try to identify where they are worn the most.
If the outside of your shoes show wear marks on the outside part of it, then you have a supinator gait, like 10% of the population. On the other hand, if the insides are the most worn, then you have a pronator gait. You are not alone here, either, as you share this trait with 45% of people. If you don't notice any significant difference, you have what is called the neutral gait, which is the healthiest gait, since it distributes the weight over the whole foot.
Look at your footprints.
This method, although less practical than the previous one, is just as effective. To do this you need three elements: Your feet, water, and a sheet of paper.
It may sound ridiculous, but all you need to do is to get one of your feet wet and see what kind of mark it leaves on the paper. This will trace your gait, identifying the areas where you put the most pressure.
Follow these images to help you identify the three types of gait and which one is yours: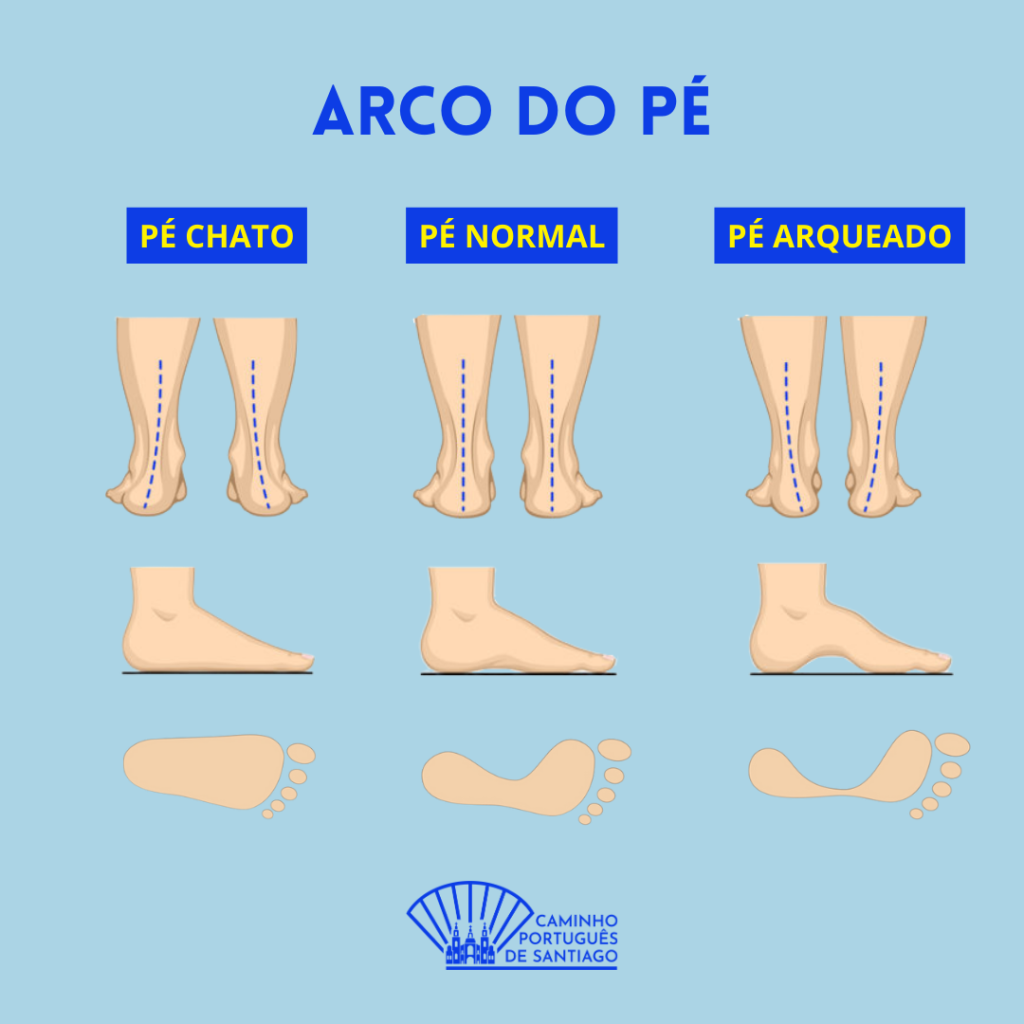 Which shoes to choose in each case?
Whether it's sneakers, boots or sports shoes, the market has adapted to these different situations, creating solutions for each of them. Look for these features when choosing your footwear for the Way of Santiago.
Cushioning: suitable for the supinator step
Stability control: suitable for neutral pitch.
Motion control: suitable for the pronator step.
Now that we have seen how your gait should influence your choice of footwear, let's start thinking about the Path
Besides the factors that come naturally to you, such as how you walk, you should also take into account the route you are going to take. These 3 questions will help you understand which footwear is the most suitable for you.
The type of road you will encounter during your journey is essential to understand what type of footwear you will need to accompany you on this adventure. In the case of the journey to the capital of Galicia, each one has different characteristics. In this way, all soils are different: in mountainous terrain, it may be better to take heavy boots to give you stability. Or, if you know that the route is mostly on dirt, you may prefer something lighter. So the first step is to know what your pilgrimage style is.
How will you do the Path?
That is, in how many days do you plan to do it; will you or won't you take a backpack with you, during the hike, or will you hire a shuttle service? If you are still in doubt, then a hiking shoe might be just what you need, because it tends to be more adjustable to different experiences.
When are you going to do the pilgrimage?
Anyone who has done the Path of Santiago knows that Saint Peter likes to mix weather conditions in the region of Galicia. The people of that region even have a proverb to warn those new to this walk: "In Galicia it always rains", you may hear it during your crossing. Therefore, choosing water resistant footwear can be a good option, especially if you go during Winter.
What other important characteristics should you look for in footwear for the Way of Santiago?
As we have seen above, there are numerous factors that have influence on the choice of footwear for the Way of Santiago. However, although it is a complex decision, more information can help you get an idea of what suits you best. So keep these points in mind:
On long hikes, the terrain is mysterious. Therefore, you need all the help you can get to keep yourself stable during your walk. This is because the ground can play tricks on you, increasing the risk of injury. A solid shoe is the support you need at such times.
For this reason, the sole must be sturdy, to ensure your safety. Likewise, the rubber must provide protection against the external elements, such as the earth. At the same time, it must not be heavy, keeping your steps stable.
When one makes a great physical effort, our body gives off heat. The same happens when we walk. Therefore, the footwear must allow the necessary ventilation so that the feet do not get too hot, concentrating moisture.
This is mainly responsible for the terrible blisters that pilgrims so often experience. Therefore, the fabric must be able to absorb it while maintaining a healthy temperature.
In the millennial route, every kilogram counts. So the weight of the shoes is an important factor when it comes to choosing them. This is because the heavier the pair of shoes, the harder the adventure will be.
However, there is always the medal reversal, because it is those that weigh the most that offer the greatest protection from the external environment. For example, running shoes allow greater lightness, over the traverse, but less safety.
So the important thing is to find a balance that you feel comfortable with. This is also why, before the crossing to Santiago de Compostela, you should prepare yourself, especially if you are not used to walking.
The pressure that a simple step makes is enough to influence the entire functioning of the body, impacting joints as sensitive as the knees. So the better prepared your footwear is to absorb this "shock", the more unlikely you are to suffer from injuries or pain at the end of the day.
Later on, you'll get a short list to help you choose the most comfortable footwear!
In addition to safety, your footwear needs to be comfortably adapted to your foot for you to enjoy this incredible journey along the trail to the capital of Galicia. This involves considering the thermal sensation, the ease of moving the bone structure, and the available space to prevent your skin from rubbing against the fabric. After all, this last point is the main cause of blisters.
Footwear for the Caminho de Santiago is an investment and, as such, should last a long time. It's important because the journey is lengthy, and you should have the assurance that you won't be left without the much-needed protection halfway through the trail.
Finally, the primary goal of footwear is to shield you from the conditions of the path. In this ancient route, it's no different, as you encounter a variety of different terrains, as we mentioned earlier, each with its unique characteristics.
What types of footwear are available?
With so many suggestions, you might be wondering: What are my options, after all? Don't worry, we'll provide you with some suggestions, along with the pros and cons of each, so you can make an informed choice!
These are the first type of footwear that comes to mind when you start considering hiking. However, despite being a solid choice and widely used by many pilgrims, they also have their drawbacks, as they can be too heavy for beginners.
Nonetheless, they are excellent for colder times when rain is prevalent. Furthermore, they provide greater stability, allowing you to confidently tackle the trail, whether it's wet, dry, or even muddy.
Pros:
The heels have more support on rough terrain and when carrying backpacks.
They give greater stability.
Last longer.
Most are water resistant.
Cons:
Heavier than the other options.
Less flexible than trainers, so a longer adaptation period is needed.
They do not allow the foot to breathe.
Our suggestions:
So much for so little. With good grip, it adjusts to the shape of your foot, promoting a comfortable stride throughout the journey. Furthermore, the rain of Galicia will no longer be a problem. The effective waterproofing of this product helps keep your feet dry, even if you're trekking on your Way to the high mountains of Serra da Estrela during the snowy months.
For those in need of a good boot at a reasonable price, the MH500 is here. It keeps you warm when you're on a pilgrimage during the winter months and offers comfort for those long stretches of the journey. Those who wear it know they arrive at their destination with their feet in good condition.
Boots are designed to be (extensively) worn. They cushion every step on any terrain, allowing you to embark on the Caminho de Santiago, rain or shine. Moreover, they are so comfortable that you will feel at ease immediately.
Great for a quick trip to the bakery or even to the capital of Galicia. When compared to running shoes, they are noticeably heavier, but never to the extent of being likened to boots. Sturdy and stable, they tend to be more durable than other options, while remaining flexible in their use. Excellent for those who understand they're not in a race and want to savor every moment of the journey in safety.
Pros:
They protect the feet more than sneakers.
They are flexible, needing less adaptation time.
Some stability on the ground.
Cons:
No heel support.
Less durable than boots.
Our suggestions:
Perfect option for those who like light footwear. In summer, they keep the feet cool, avoiding excess humidity and, consequently, blisters. Besides, they are beautiful!
Its modern, yet discreet design is just one of the qualities of this mountain shoe. Whether you're on a cold and rainy terrain or in the scorching heat of the Iberian summer, this shoe will protect you. It also adapts to your foot, in a comfortable way, so you can reach further.
Comfort, grip and resistance. It is with these words that Merrel works on its hiking shoes. Because those who know the world of trails know that these traversing partners need to be light to help you reach further, but strong to withstand your step.
More and more people are choosing athletic shoes, and for good a reason. Lightweight and increasingly resistant, they are a good option for those who want to do the crossing without weights.
Pros:
Lightweight and basically no adaptation time required.
They allow the foot to breathe.
Cons:
No heel support;
Less durable than boots;
Most aren't water resistant.
Our suggestions:
Made with durable materials, they are ready for you to complete the entire Portuguese Caminho de Santiago from Lisbon and back, without weighing your feet down. Moreover, they are so flexible that even wider feet can move without difficulty.
With this running shoes, your steps won't leave you on the ground. Its hard sole gives you the stability you need to make the Labruja Mountain and go down to Redondela without any accident. It's worth investing in good brands.
Don't let their tough looks fool you, these running shoes are little clouds on your feet. Experienced pilgrims recommend them to anyone who enjoys going on long hikes.
It may seem like it, but you haven't gone back to the early days of the Santiago trail. Sandals are a good option for people who easily get blisters on their feet. This is because they allow hot air to escape, without it being trapped in the fabric.
Pros:
Less possibility of blisters;
Light.
Cons:
Buckles can hurt;
The feet are more exposed to the elements;
Less resistant. If the buckle rips, you're out of shoes.
Our suggestions:
Comfortable, light and cool: these sandals have everything you need to walk the Path of Santiago comfortably. Confront blisters with a shoe that, with an elegant look, adapts to your foot.
Made of a sturdy and durable material, they can handle all the routes of Santiago you want to do. At the same time, they provide stability when walking and cushion the shocks of your steps.
You can take them to the beach, to work, or take them to the capital of Galicia. Besides being comfortable, they are also versatile. Their modern look comes with the right technology to stabilize your steps on the millennial path.
5 tips for choosing the right footwear for you!
Now that you know all about the various types of footwear suitable for the Path of Santiago, we leave you with a few more suggestions. Whether it's boots or sports shoes, the important thing is that you feel comfortable. Don't forget that you have many kilometers ahead of you!
First, you need to know what size you are wearing. Depending on the brand, this can change, so always try it on, first. Also, you should not only think about the length of your foot, but also its height. This way you will get shoes that are comfortable and suitable for you.
At the end of the day your feet swell up. So when you try it, try to do it at sunset.
Try to figure out if the foot fits comfortably the shoe. Use the technique we are all familiar with, to place your thumb on the tip of your shoe. It should be neither too close nor too far away from the tip.
Take a walk around the store, to figure out if you like the feel of it. Think about comfort and weight to help you.
Start practicing with your new acquisition way before you take the millennial route!
What is missing for you to start the Portuguese Way of Santiago?
Now that you know how to choose the right shoes for the Path of Santiago, all you have to do is start planning your adventure. Use our website to gather all the necessary information and start the Portuguese Path of Santiago.
If you need company, know that you are never alone on the trail. In fact, not even before, since we have an incredible community of more than 70,000 people ready to help you walk the roads that lead to Santiago de Compostela.
Join us at: https://www.facebook.com/groups/caminhoportuguesdesantiago/